Articles | Volume 4, issue 1
https://doi.org/10.5194/wes-4-115-2019
© Author(s) 2019. This work is distributed under
the Creative Commons Attribution 4.0 License.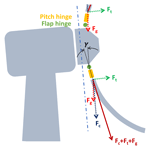 Comparison between upwind and downwind designs of a 10 MW wind turbine rotor
The size of wind turbines has been steadily growing in the pursuit of a lower cost of energy by an increased wind capture. Within this trend, the vast majority of wind turbine rotors have been designed based on the conventional three-bladed upwind concept. This paper aims at assessing the optimality of this configuration with respect to a three-bladed downwind design, with and without an actively controlled variable coning used to reduce the cantilever loading of the blades. Results indicate that a conventional design appears difficult to beat even at these turbine sizes, although a downwind nonaligned configuration might be an interesting alternative.
Received: 25 Sep 2018 – Discussion started: 04 Oct 2018 – Revised: 06 Dec 2018 – Accepted: 10 Jan 2019 – Published: 31 Jan 2019
The size of wind turbines in terms of both rotor diameter and nameplate power has been dramatically increasing over the last few decades. The key driver behind this spectacular growth has been the reduction in levelized cost of energy (CoE), which typically benefits from an increase in energy capture. The trend is expected to continue as more countries promote new offshore installations and onshore wind increases its presence in regions of low average wind speeds. In addition, in countries characterized by a high penetration of wind power such as Denmark and Germany, the structure of the electricity market tends to favor larger rotor sizes. In fact, the price of electricity in these markets is increasingly correlated with the availability of wind power. At times when wind power is abundant, electric grids may experience an excess of power generation, which in turn leads spot market prices to markedly drop (Badyda and Dylik, 2017), ultimately reducing the importance of power production in high winds.
The growth in rotor diameters is, however, pushing the limits of conventional wind turbine configurations. For example, one especially important design driver of very long blades is the minimum clearance between tip and tower to prevent strikes. In fact, the design of large upwind rotors is often driven by tip-clearance requirements (Bortolotti et al., 2016, 2018). To meet this constraint, designers are increasingly adopting a combination of thick airfoils and high-modulus composites to increase the out-of-plane stiffness of the blades. Together with an increase in blade prebend, rotor cone and nacelle uptilt angles, these design choices help satisfy the tower clearance constraint. Nonetheless, achieving CoE reductions by upscaling conventional upwind configurations is an increasingly challenging task.
In this scenario, the recent literature suggests that downwind rotor configurations may offer the opportunity to generate lower CoE values compared to traditional upwind ones (Frau et al., 2015; Ning and Petch, 2016). Cost reductions could be obtained in downwind configurations thanks to lighter and more flexible blades, made possible by a relaxed tower clearance constraint. In addition, an increased annual energy production (AEP) could be generated by reduced cone and uptilt angles, as well as by a favorable blockage effect generated by the nacelle. In fact, the presence of the nacelle located upwind of the rotor has the effect of redirecting the flow towards the outboard part of the blade. This way, the flow speeds up towards blade sections characterized by thinner and more efficient airfoils and, as a result, a higher AEP is produced. An experimental campaign on subscale models showed an increase in AEP equal to 5 % against an increase of 3 % of rotor thrust (Kress et al., 2015a). Furthermore, in sites characterized by upflow angles, such as hills and ridges, the uptilt angle improves the alignment of the rotor with the incoming wind in the downwind case, while it has the opposite effect in the upwind one. Lastly, the weathercock stability of downwind rotors could, at least in principle, be exploited to reduce the cost of the yaw system (Kress et al., 2015a).
Clearly, these benefits would not come for free, and downwind rotors struggle against a major disadvantage, namely an increased tower shadow effect (Reiso, 2013). This results into two main negative effects compared to equivalent upwind designs. First, fatigue loading typically increases due to a higher one-per-revolution harmonic blade excitation (Manwell et al., 2009; Kress et al., 2015b). Secondly, higher noise emissions are generated due to the blade interference with the tower wake, especially in the low frequency range of the noise spectrum (Madsen et al., 2007). These two aspects have been especially important for early onshore machines and, as a result, most modern designs worldwide adopt the upwind configuration. One notable exception to this situation is represented by the downwind machines developed by Hitachi Ltd. and installed in Japan (Kress et al., 2015b).
An additional potential advantage of downwind rotors is the possibility of achieving the so-called "load alignment" along the blades, a novel concept proposed and investigated in Ichter et al. (2016), Loth et al. (2017) and Noyes et al. (2018). Load alignment may be seen as bio-inspired by palm trees, which sustain storms by bending downwind and aligning their leaves in the wind direction. In turn, this has the effect of turning cantilever loads into tensile ones. In Ichter et al. (2016), Loth et al. (2017) and Noyes et al. (2018) this concept is investigated by designing a 13.2 MW two-bladed downwind rotor, which exhibits a decreased CoE in comparison to an equivalent upwind three-bladed configuration. This claim is supported by reduced out-of-plane fatigue and ultimate loads that lead to a reduction of blade mass.
The goal of this work is the comparison of three-bladed upwind rotor configurations with three-bladed downwind designs, including load alignment. The present work does not consider the case of teetering two-bladed rotors. Similarly to Ning and Petch (2016), the present investigation performs a detailed aerostructural optimization to minimize the CoE of each wind turbine configuration. The main difference of this study with respect to the existing literature is that the analyses conducted herein are characterized by a higher fidelity of the simulation models and by a more complete set of load cases, including shutdowns. In fact, these are often found to be driving the design of downwind wind turbine blades and, therefore, should be part of the design process.
The design framework adopted in the present investigation is Cp-Max, whose detailed description is reported in Bortolotti et al. (2016, 2018) and references therein. The comprehensive design procedures implemented in Cp-Max account for all design constraints typically included in an industrial design context and allow one to consider the various multidisciplinary couplings of the problem, which are necessary to identify CoE-optimal constraint-satisfying solutions. This is achieved by balancing turbine capital cost and AEP. The design optimization procedures are driven by the combination of two cost models. A first model developed at Sandia National Laboratories (Johans and Griffith, 2013) is used to estimate the blade cost. This model overcomes the use of a simplified relationship between blade mass or blade length versus blade cost, and it accounts for material, equipment and labor costs. CoE is estimated by the cost model developed within the INNWIND.EU project (INNWIND.EU, Deliverable 1.23, 2014). This second cost model is especially focused on next-generation offshore wind turbine designs.
The paper is structured as follows. Section 2 reviews the aeroservoelastic simulation models used in the study, the load-alignment concept and a short summary of the aerostructural design procedures. Then, Sect. 3 discusses the wind turbine configuration used as baseline and the novel downwind designs, which are compared in terms of loads, performance and costs. The study is closed in Sect. 4, where the main conclusions of the study are summarized.
2
Modeling, simulation and design
This work is concerned with the evaluation of design configurations of wind turbines. This activity is supported by the wind turbine design framework Cp-Max, which uses aeroservoelastic models implemented within the wind turbine simulator Cp-Lambda coupled to a model-based controller, which are described in Sects. 2.1 and 2.2, respectively. This background information is followed by Sect. 2.3, where the load-alignment design concept is reviewed. Finally, Sect. 2.4 briefly recalls the design procedures implemented in Cp-Max.
3
Comparison of design configurations
In this section, the baseline upwind model used as benchmark is first presented in Sect. 3.1. Then, Sect. 3.2 reviews the downwind design configurations developed from the baseline. These are finally compared in Sect. 3.3 in terms of loads, blade mass, blade cost, AEP and CoE. Finally, some critical aspects of the load-aligned solution are discussed in Sect. 3.4.
4
Conclusions and future work
This paper has presented a comparative study among five three-bladed upwind and downwind wind turbine configurations, with the aim of investigating the potential merit of downwind solutions and active load alignment in a 10 MW case. Based on the results reported herein, the following main conclusions can be drawn together with recommendations for future work.
4.1

Conclusions

First, downwind rotors help with limiting mass and cost of very large blades. Specifically, results indicate reductions of 6 % in mass and 2 % in cost. It is speculated that further benefits could be obtained by optimized ad hoc shutdown strategies, which could help approach the slightly more promising conclusions exposed in Ning and Petch (2016). In addition, when the atmospheric flow is characterized by an upflow, such as in some complex terrain conditions, downwind machines generate a higher AEP than equivalent upwind designs because of a more favorable attitude of the rotor with respect to the incoming wind. In this study, a downwind rotor operating in a wind with an upflow of 5∘ generates 0.7 % more AEP than an equivalent upwind configuration. Any such increase, together with savings in blade cost, can lead to CoE reductions at approximately the same loading.

Secondly, generating an effective load alignment in highly turbulent wind conditions and storms appears to be a nontrivial task, even with an active solution. In addition, losses in AEP compared to traditional downwind designs are observed. These effects negatively impact the CoE. The power consumed by the three coning actuators is also nonnegligible, peaking for the configuration analyzed here at a staggering average of nearly 3 MW around rated wind speed. Without a power recovery system, this would dramatically impact the AEP. The extra investment for the three actuators, both in terms of capital and operational cost, is also expected to significantly impact the CoE. Finally, during storms, the usefulness of load alignment is very questionable, as the folding of a large rotor is unrealistic due to the resulting dramatic increase in hub and tower base moments.

Overall, conventional (nonconing) downwind designs are found to be more promising. These configurations could offer advantages either in conditions of marked atmospheric upflow or in the case of very large offshore machines, where blade mass needs to be limited. Having said this, it should also be remarked that the standard upwind solution appears to be very difficult to beat, even at these large sizes. Given the very significant body of knowledge and experience on this configuration accumulated by industry so far, it remains to be seen whether the advantages of downwind solutions are worth the effort and risk that are undoubtedly necessary to bring them to full maturity.
4.2

Recommendation for future work

Additional investigations are necessary to address the assumptions and design decisions that may affect the conclusions of this work. For the comparison among UW, UW5, DW and DW5, an assessment of the effects of the four rotors on the design of the tower and of the nacelle components should be conducted. In addition, the blockage effect generated by the nacelle, which is not included in the present analysis, could possibly slightly improve the AEP and CoE of the downwind configurations. In this context, it would be useful to develop analytical corrections for BEM-based models to account for the presence of the nacelle in a downwind rotor. Furthermore, it is recommended to increase the number of turbulent seeds and possibly run the full list of DLCs as prescribed by international standards (IEC, 2005). Special attention should be given to the case of complex terrain installations. As suggested by Kress et al. (2015a) and the results reported in this paper, a downwind configuration may benefit in terms of AEP. However, an especially careful load assessment should be conducted as complex terrain conditions may also be characterized by increased unsteadiness in the wind, high shear and recirculation regions, which may result in higher loads on the turbine. Finally, a more rigorous holistic design optimization for upwind and downwind configurations should be conducted, including an optimization of the rotor diameter and an evaluation of the design for other wind turbine classes. In fact, the lower fidelity analyses conducted by Ning and Petch (2016) returned the greatest advantages of downwind configurations for class III machines.

Regarding the active coning solution, additional studies should assess the optimality of the design assumptions made so far, especially focusing on the amount of blade prebend, on the maximum flapwise blade root moment and on the coning rate. Finally, a more complete comparison with the existing literature should also consider the development of a teetering two-bladed downwind rotor, which was not studied here and might significantly change the conclusions.
Data can be provided upon request. Please contact the corresponding author Carlo L. Bottasso (carlo.bottasso@tum.de).
All authors equally contributed to this work.
The authors declare that they have no conflict of interest.
The authors gratefully acknowledge the partial financial support of the ICER TUM-NTU project, directed by Subodh Mhaisalkar and Thomas Hamacher.

This work was supported by the German Research
Foundation (DFG) and the Technical University of Munich (TUM)
in the framework of the Open Access Publishing Program.

Edited by: Athanasios Kolios
Reviewed by: Vasilis A. Riziotis and one anonymous referee
Badyda, K. and Dylik, M.: Analysis of the impact of wind on electricity prices based on selected european countries, Energy Proced., 105, 55–61, https://doi.org/10.1016/j.egypro.2017.03.279, 2017. a
Bak, C., Zahle, F., Bitsche, R., Kim, T., Yde, A., Henriksen, L. C., Andersen, P. B., Natarajan, A., and Hansen, M. H.: Description of the DTU 10 MW reference wind turbine, DTU Wind Energy Report-I-0092, July, 2013. a
Bauchau, O. A.: Flexible Multibody Dynamics, Mechanics and Its Applications, Springer, ISBN:978-94-007-0335-3, 2011. a
Bortolotti, P., Bottasso, C. L., and Croce, A.: Combined preliminary–detailed design of wind turbines, Wind Energ. Sci., 1, 71–88, https://doi.org/10.5194/wes-1-71-2016, 2016. a, b, c, d, e
Bortolotti, P., Sartori, L., Croce, A., and Bottasso, C. L.: Integration of multiple passive load mitigation technologies by automated design optimization – The case study of a medium-size onshore wind turbine, Wind Energy, 22, 65–79, https://doi.org/10.1002/we.2270, 2018. a, b, c, d
Bottasso, C. L., Croce, A., Savini, B., Sirchi, W., and Trainelli, L.: Aero-servo-elastic modeling and control of wind turbines using finite-element multibody procedures, Multibody Syst. Dyn., 16, 291–308, https://doi.org/10.1007/s11044-006-9027-1, 2006. a
Bottasso, C. L., Croce, A., Nam, Y., and Riboldi, C. E. D.: Power curve tracking in the presence of a tip speed constraint, Renew. Energ., 40, 1–12, https://doi.org/10.1016/j.renene.2011.07.045, 2012. a, b, c
Bottasso, C. L., Bortolotti, P., Croce, A., and Gualdoni, F.: Integrated aero-structural optimization of wind turbine rotors, Multibody Syst. Dyn., 38, 317–344, https://doi.org/10.1007/s11044-015-9488-1, 2016. 
Frau, E., Kress, C., Chokani, N., and Abhari, R. S.: Comparison of performance and unsteady loads of multimegawatt downwind and upwind turbines, J. Sol. Energ.-T. ASME, 137, 041004-041004-8, https://doi.org/10.1115/1.4030314, 2015. a
Giavotto, V., Borri, M., Mantegazza, P., and Ghiringhelli G.: Anisotropic beam theory and applications, Comput. Struct., 16, 403–413, https://doi.org/10.1016/0045-7949(83)90179-7, 1983. a
Hansen, M. O. L.: Aerodynamics of Wind Turbines, 2nd Edn., Earthscan, London, ISBN: 978-1-84407-438-9, 2008. a
Ichter, B., Steele, A., Loth, E., Moriarty, P., and Selig, M.: A morphing downwind-aligned rotor concept based on a 13-MW wind turbine, Wind Energy, 19, 625–637, https://doi.org/10.1002/we.1855, 2016. a, b, c, d, e
INNWIND.EU, Deliverable 1.23, PI-based assessment of innovative concepts (methodology), INNWIND.EU technical report, Deliverable 1.23, available at: http://www.innwind.eu/Publications/Deliverable-reports (last access: June 2018), April 2014. a
Johans, W. and Griffith, D. T.: Large Blade Manufacturing Cost Studies Using the Sandia Blade Manufacturing Cost Tool and Sandia 100-meter Blades, Sandia National Laboratories Technical Report, 2013. a
Kress, C., Chokani, N., and Abhari, R. S.: Downwind wind turbine yaw stability and performance, Renew. Energ., 83, 1157–1165, https://doi.org/10.1016/j.renene.2015.05.040, 2015a. a, b, c
Kress, C., Chokani, N., and Abhari, R. S.: Design Considerations of rotor cone angle for downwind wind turbines, J. Eng. Gas Turb. Power, 138, 052602-052602-10, https://doi.org/10.1115/1.4031604, 2015b. a, b
Loth, E., Steele, A., Qin, A., Ichter, B., Selig, M. S., and Moriarty, P.: Downwind pre-aligned rotors for extreme-scale wind turbines, Wind Energy, 20, 1241–1259, https://doi.org/10.1002/we.2092, 2017. a, b, c, d, e
Ning, A. and Petch, D.: Integrated design of downwind land-based wind turbines using analytic gradients, Wind Energy, 19, 2137–2152, https://doi.org/10.1002/we.1972, 2016. a, b, c, d, e
Noyes, C., Qin, C., and Loth, E.: Pre-aligned downwind rotor for a 13.2 MW wind turbine, Renew. Energ., 116, 749–754, https://doi.org/10.1016/j.renene.2017.10.019, 2018. a, b, c, d, e
Madsen, H. A., Johansen, J., Sørensen, N. N., Larsen, G. C., and Hansen, M. H.: Simulation of low frequency noise from a downwind wind turbine rotor, 45th AIAA Aerospace Sciences Meeting and Exhibit, Reno, Nevada, https://doi.org/10.2514/6.2007-623, 2007. a
Manwell, J. F., McGowan, J. G., and Rogers, A. L.: Wind Energy Explained, Wiley, ISBN: 978-0-470-01500-1, 2009. a
Peters, D. A. and He, C. J.: Finite state induced flow models-part II: three-dimensional rotor disk, J. Aircraft, 32, 323–333, https://doi.org/10.2514/3.46719, 1995. a
Pitt, D. M. and Peters, D. A.: Theoretical prediction of dynamic inflow derivatives, Vertica, 5, 21–34, 1981. a
Powles, S. R. J.: The effects of tower shadow on the dynamics of a HAWT, Wind Engineering, 7, 26–42, 1983. a
Reiso, M.: The Tower Shadow Effect in Downwind Wind Turbines, PhD Thesis, Norwegian University of Science and Technology, 2013. a
Sartori, L., Bortolotti, P., Croce, A., and Bottasso, C. L.: Integration of prebend optimization in a holistic wind turbine design tool, J. Phys. Conf. Ser., 753, https://doi.org/10.1088/1742-6596/753/6/062006, 2016.  a
Soltani, M. N., Knudsen, T., Svenstrup, M., Wisniewski, R., Brath, P., Ortega, R., and Johnson, K.: Estimation of rotor effective wind speed: a comparison, IEEE T. Contr. Syst. T., 21, 1155–1167, https://doi.org/10.1109/TCST.2013.2260751, 2013. a
Wind Turbines Part 1: Design Requirements, Ed. 3, International Standard IEC 61400-1, available at: https://webstore.iec.ch/publication/5426&preview=1 (last access: 28 January 2019), 2005.  a, b