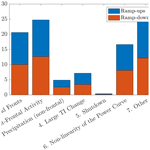 1

Department of Mechanical Engineering, The University of Melbourne, Melbourne, Victoria 3010, Australia

2

School of Earth Sciences, The University of Melbourne, Melbourne, Victoria 3010, Australia
Correspondence: Mathieu Pichault (mpichault@student.unimelb.edu.au)
Received: 12 May 2020 – Discussion started: 05 Jun 2020 – Revised: 15 Sep 2020 – Accepted: 08 Dec 2020 – Published: 19 Jan 2021
One of the main factors contributing to wind power forecast inaccuracies is the occurrence of large changes in wind power output over a short amount of time, also called "ramp events". In this paper, we assess the behaviour and causality of 1183 ramp events at a large wind farm site located in Victoria (southeast Australia). We address the relative importance of primary engineering and meteorological processes inducing ramps through an automatic ramp categorisation scheme. Ramp features such as ramp amplitude, shape, diurnal cycle and seasonality are further discussed, and several case studies are presented. It is shown that ramps at the study site are mostly associated with frontal activity (46 %) and that wind power fluctuations tend to plateau before and after the ramps. The research further demonstrates the wide range of temporal scales and behaviours inherent to intra-hourly wind power ramps at the wind farm scale.
Environmental protection and sustainability have become the main incentives to integrate more green energy sources into electrical systems. Numerous countries are currently moving towards greener energy production sources to achieve the Paris Agreement's goal to keep global warming below +2∘ by 2100 (UNFCCC, 2015). Since the early 2000s, wind energy has gained significant traction and is currently the fastest-growing mode of electricity production across the globe (EIA, 2019), with up to 51.3 GW of wind power capacity installed worldwide in the year 2018 alone (GWEC, 2019). In emerging markets such as Australia, Canada and the United States, newly built wind farms are installed in large blocks, often exceeding 400 MW (Kariniotakis, 2017). With ever-growing wind penetration in the grid, electricity networks are increasingly subject to fluctuations in power production. These fluctuations are called "ramp events", referring to the sudden variations in wind power generation over a short period of time. Motivated by the need to enhance management of such events as well as by optimising integration and control of wind farms, there is currently a great incentive to develop accurate and timely short-term (intra-hourly) ramp forecasts (Zhang et al., 2017; Cui et al., 2015; Gallego et al., 2015a).
Sharp increases ("ramp-up") or decreases ("ramp-down") in wind power generation over a short period of time give rise to both financial and physical impacts. First, wind power ramps are a risk to electric system stability and their mismanagement can have dramatic consequences, such as power outages (Tayal, 2017; Trombe et al., 2012). These can be particularly detrimental to electrical networks located in areas with a low degree of inter-connectivity (i.e. remote regions or islands), where significant power variations are not easily balanced (van Kooten, 2010; Treinish and Treinish, 2013). Both ramp-ups and ramp-downs can exhibit diverse levels of severity (i.e. likelihood to cause disturbances) according to the time and geographic scale over which the ramp occurs (Zhang et al., 2014). However, ramp-downs are generally considered more likely to impact grid system stability due to the limited availability of reserve power (Zhang et al., 2017; Jørgensen and Mohrlen, 2008). Additionally, wind farms are often curtailed during ramp-ups as electricity surplus cannot be dispatched, which represents loss of potential profits for wind farm owners. In many cases, wind farm owners also have to cover additional costs when they are unable to meet specific loads and quotas.
Improved ramp prediction can help mitigate the issues listed above. However, wind power ramps are particularly challenging to predict. This is partly due to the wide variety of timescales over which they occur, ranging from a few minutes up to several hours (Worsnop et al., 2018). At the wind farm scale, numerical weather prediction models struggle with forecasting wind power fluctuations occurring within an hour and often fail to predict accurately the timing and the amplitude of the ramps (Zack et al., 2011; Magerman, 2014). In practice, the vast majority of operational short-term wind forecasts rely primarily on variations of the persistence method (or "naive predictor") (Wurth et al., 2018), which assumes that there will be no variation between the current conditions and the conditions at the time of the forecast. Persistence forecasts inherently tend to perform poorly during ramp events.
Wind power ramps are usually characterised by their magnitude ΔP, duration Δt, rate ΔP∕Δt, timing t0 (central time or starting time of the event) and gradient (ramp-up or ramp-down) (Sherry and Rival, 2015; Lange et al., 2010; Ferreira et al., 2010). However, defining a ramp event is a non-trivial task. In fact, there is currently no commonly agreed upon definition for a wind power ramp (Gallego et al., 2015a; Mishra et al., 2017) as its interpretation can vary substantially between applications (Wurth et al., 2019; Cutler et al., 2007; Bradford et al., 2010; Greaves et al., 2009). In addition, some operators may need to evaluate the likelihood of ramps occurring based on various definitions simultaneously (Bianco et al., 2016). Many wind power ramp studies employ a binary, threshold-crossing identification system. However, these binary identification systems are limited by the high sensitivity of the definition to the adopted threshold. Furthermore, it implies all ramps are identical and does not provide further insights into their severity. To alleviate these shortcomings, the so-called "ramp functions" have been introduced, which provide an estimation of the ramp intensity at each time step. Gallego et al. (2013, 2014) first introduced a ramp function based on a continuous wavelet transform (the "Haar" wavelet) of a wind power time series, and Martínez-Arellano et al. (2014) proposed a ramp function based on a fuzzy-logic approach to characterise ramps for the day-ahead market. More recently, a continuous wavelet transform (CWT) based on a Gaussian wavelet was used by Hannesdóttir and Kelly (2019).
A precursor to successful ramp predictions is a sound understanding of the conditions under which ramps occur (Couto et al., 2015). Identifying the temporal and spatial scales pertaining to ramps also provides valuable insights into the limits of numerical weather prediction models and associated uncertainties (Gallego et al., 2015a). Nonetheless, ramping behaviour analysis is a relatively new research field and very little is known about the main processes inducing ramps (Mishra et al., 2017). In Cutler (2009), approximately 40 % of the ramps observed at three Australian wind farms were associated with frontal systems, while neighbouring high- and low-pressure systems and troughs accounted for 35 % of the ramps. In Jørgensen and Mohrlen (2008) and Sherry and Rival (2015), the authors observed a strong correlation between ramp events and chinook (föhn) wind days, emphasising the importance of local meteorological events in forming ramps. Deppe et al. (2012) found the presence of low-level jets was the primary driver of ramps at a site located in Pomeroy (IA, USA). Other studies in central Europe have shown that most critical ramps arise from extreme weather events such as cyclones (Steiner et al., 2017; Lacerda et al., 2017). These findings suggest a relatively high degree of association between ramping behaviour and large-scale atmospheric circulation processes, emphasising the great potential to use synoptic-scale forecasts and operational decision tools to support power systems with a high degree of wind penetration. Although discussed in multiple studies (Deppe et al., 2012; Ferreira et al., 2012; Freedman et al., 2008; Kamath, 2010; Sherry and Rival, 2015), there is no consensus in the literature on seasonal and diurnal ramp patterns, underlining the influence of local features on ramping behaviour. In summary, we see that the expected main drivers of ramps can vary significantly according to geographic location and that site-specific conditions such as terrain roughness, orography and air–sea–land interactions play a critical role in inducing ramps at the wind farm scale.
As pointed out by Cutler et al. (2007), Gallego et al. (2013, 2015b) and Mishra et al. (2017), robust ramp classifications are still currently needed owing to the emerging nature of the subject. Review of the literature revealed that while studies assessing the causality of wind power ramps exist, these focus mostly on a limited number of critical events rather than on more frequent fluctuations. The lack of clear identification criteria prevents the implementation of automatic classification schemes and hence precludes tracing the causality of more common (less severe) ramps. Hence, it is of both scientific and practical interest to develop automatic schemes for (intra-hourly) ramp categorisation. This study aims at characterising intra-hourly wind power ramps and their underlying processes at the wind farm scale through such an approach. The paper is organised as follows. The methodology to detect ramps and extract relevant features, as well as to categorise ramps according to their underlying processes, is established in Sect. 2. Section 3.1 provides details on the main ramp features at the study site. Section 3.2 addresses the underlying meteorological and engineering causes of ramps, and ramp shapes are discussed in Sect. 3.3. For illustrative purposes, characteristic case studies are presented in Sect. 3.4. Finally, conclusions and a discussion of future works are presented in Sect. 4.
Sudden wind power variations and associated underlying processes need to be accurately characterised to enhance ramp forecast accuracy and hence reduce grid instability. Although the influence of more common (i.e. less extreme) wind power ramps is evident, the current body of literature on ramp characterisation focuses mostly on the largest ramps owing to a lack of an automated classification methodology. This paper bridges this knowledge gap by assessing power variations with a temporal coverage exceeding 5 %. In this study, we introduced a robust method to characterise intra-hourly wind power ramps at the wind farm scale. We then explored the underlying causes of the identified ramps. Finally, we investigated the shape of the fluctuations surrounding ramps to improve ramp modelling.
The results are significant in three respects. First and foremost, we show how simple statistics can provide valuable insights into the complex mechanisms shaping ramp event dynamics. Second, although the behaviour of the power fluctuations before and after a ramp can vary greatly, some ramping behaviours are more frequent than others. For instance, power fluctuations tend to plateau before and after the ramp in 44 % of the cases. Such considerations need to be accounted for when modelling ramps. Third, the study showed that cold fronts and post-frontal activity accounted for most of the ramps investigated (46 %). Implications in terms of forecastability are significant. As passages of cold fronts are often predictable several days in advance using numerical weather prediction models, albeit with timing errors, these can be used to warn operators in the control room of days with high chances of ramp occurrence. Likewise, wind farm operators can expect more wind power variability within 12 h of the passage of a front (post-frontal conditions). Similarly, precipitation events can be challenging to predict accurately more than a couple of hours in advance, particularly where stochastic convective-scale processes are present.
The present research opens up new lines of inquiry into the existing relationships between frontal passages and wind power ramps. In particular, it would be helpful to explore further whether fronts always result in wind power ramps at the wind farm scale. The results presented here also indicate the potential for real-time, upstream ramp detection using remote sensing and in situ observations. Finally, we note that the accurate modelling and prediction of wind power ramps is also beneficial to other areas of research, such as aviation safety and building design.
Appendix A:
 Bootstrapping method
In this paper, we use a bootstrapping approach to assess whether specific ramp drivers have characteristic ramp shapes. Bootstrapping is a common statistical test used to evaluate the sampling distribution of a variable based on random sampling. The population is sampled a number of times equal to the number of samples (there are 1183 ramps in the data set), according to weights given by the probability distribution assuming no relationships between the ramp shapes and drivers. This random sampling with replacement is repeated 1000 times. The observed ensemble frequencies falling outside of the 95 % confidence interval of their bootstrapped distributions indicate statistically significant differences. Results from the bootstrap test and associated p values are provided in Table A1 and A2, respectively.
All authors contributed to the design and implementation of the research and the analysis of the results. MP wrote the manuscript with input from CV, GS and JM.
The authors declare that they have no conflicts of interest.
This study is partly funded by the Australian Renewable Energy Agency (ARENA) in the context of the Market Participant 5-Minute forecast (MP5F) initiative undertaken by the Australian Renewable Energy Agency (ARENA) and the Australian Energy Market Operator (AEMO). We would like to thank Meridian Energy Australia for providing the data presented in this study.
This research has been supported by the Australian Renewable Energy Agency (ARENA) (grant no. 2018/ARP16).
This paper was edited by Joachim Peinke and reviewed by Ásta Hannesdóttir and one anonymous referee.
Berson, F. A., Reid, D. G., and Troup, A. J.: The Summer Cool Change of South-Eastern Australia, Technical Paper 8, Commonwealth Scientific and Industrial Research Organization, Melbourne, Australia, 1957. a
Bianco, L., Djalalova, I. V., Wilczak, J. M., Cline, J., Calvert, S., Konopleva-Akish, E., Finley, C., and Freedman, J.: A Wind Energy Ramp Tool and Metric for Measuring the Skill of Numerical Weather Prediction Models, Weather Forecast., 31, 1137–1156, https://doi.org/10.1175/WAF-D-15-0144.1, 2016. a
Bitsa, E., Flocas, H., Kouroutzoglou, J., Hatzaki, M., Rudeva, I., and Simmonds, I.: Development of a Front Identification Scheme for Compiling a Cold Front Climatology of the Mediterranean, Climate, 7, 130, https://doi.org/10.3390/cli7110130, 2019. a
BOM: Bureau of Meteorology Sheoaks Weather Station, available at: http://www.bom.gov.au/places/vic/she-oaks/, last access: 10 September 2020a. a
BOM: Bureau of Meteorology MSLP Charts, http://www.bom.gov.au/australia/charts/archive/, last access: 2 December 2020b. a
Bradford, K. T., Carpenter, D. R. L., and Shaw, B. L.: Forecasting Southern Plains Wind Ramp Events Using the WRF Model at 3-Km, The 9th American Meteorological Society Anual Meeting, 17 January 2010, p. 10, Altanta, GA, 2010. a
Couto, A., Costa, P., Rodrigues, L., Lopes, V. V., and Estanqueiro, A.: Impact of Weather Regimes on the Wind Power Ramp Forecast in Portugal, IEEE T. Sustain. Energ., 6, 934–942, https://doi.org/10.1109/TSTE.2014.2334062, 2015. a
Cui, M., Ke, D., Sun, Y., Gan, D., Zhang, J., and Hodge, B.-M.: Wind Power Ramp Event Forecasting Using a Stochastic Scenario Generation Method, IEEE T. Sustain. Energ., 6, 422–433, https://doi.org/10.1109/TSTE.2014.2386870, 2015. a
Cutler, N.: Characterising the Uncertainty in Potential Large Rapid Changes in Wind Power Generation, Ph.D. thesis, University of New South Whales, Sydney, 2009. a
Cutler, N., Kay, M., Jacka, K., and Nielsen, T. S.: Detecting, Categorizing and Forecasting Large Ramps in Wind Farm Power Output Using Meteorological Observations and WPPT, Wind Energy, 10, 453–470, https://doi.org/10.1002/we.235, 2007. a, b
Dee, D. P., Uppala, S. M., Simmons, A. J., Berrisford, P., Poli, P., Kobayashi, S., Andrae, U., Balmaseda, M. A., Balsamo, G., Bauer, P., Bechtold, P., Beljaars, A. C. M., van de Berg, L., Bidlot, J., Bormann, N., Delsol, C., Dragani, R., Fuentes, M., Geer, A. J., Haimberger, L., Healy, S. B., Hersbach, H., Hólm, E. V., Isaksen, L., Kållberg, P., Köhler, M., Matricardi, M., McNally, A. P., Monge-Sanz, B. M., Morcrette, J.-J., Park, B.-K., Peubey, C., de Rosnay, P., Tavolato, C., Thépaut, J.-N., and Vitart, F.: The ERA-Interim Reanalysis: Configuration and Performance of the Data Assimilation System, Q. J. Roy. Meteor. Soc., 137, 553–597, https://doi.org/10.1002/qj.828, 2011. a
Deppe, A. J., Gallus, W. A., and Takle, E. S.: A WRF Ensemble for Improved Wind Speed Forecasts at Turbine Height, Weather Forecast., 28, 212–228, https://doi.org/10.1175/WAF-D-11-00112.1, 2012. a, b
Efron, B.: Bootstrap Methods: Another Look at the Jackknife, Ann. Stat., 7, 1–26, https://doi.org/10.1214/aos/1176344552, 1979. a
EIA, U. E. I. A.: Annual Energy Outlook 2019 with Projections to 2050, Tech. rep., U.S Department of Energy, Washington, USA, 2019. a
Ferreira, C., Gama, J., Moreira-Matias, L., Botterud, A., and Wang, J.: A Survey on Wind Power Ramp Forecasting, Tech. Rep. ANL/DIS-10-13, Argonne National Laboratory, Illinois, USA, 2010. a
Ferreira, C. A., Gama, J., Santos Costa, V., Miranda, V., and Botterud, A.: Predicting Ramp Events with a Stream-Based HMM Framework, in: Discovery Science, edited by: Ganascia, J.-G., Lenca, P., and Petit, J.-M., Lecture Notes in Computer Science, 224–238, Springer Berlin Heidelberg, Berlin, Germany, 2012. a, b, c
Fournier, M. B. and Haerter, J. O.: Tracking the Gust Fronts of Convective Cold Pools, J. Geophys. Res.-Atmos., 124, 11103–11117, https://doi.org/10.1029/2019JD030980, 2019. a
Freedman, J., Markus, M., and Penc, R.: Analysis of West Texas Wind Plant Ramp-up and Ramp-down Events, Tech. rep., AWS Truewind, Texas, USA, 2008. a, b, c
Gallego, C., Costa, A., Cuerva, Á., Landberg, L., Greaves, B., and Collins, J.: A Wavelet-Based Approach for Large Wind Power Ramp Characterisation, Wind Energy, 16, 257–278, https://doi.org/10.1002/we.550, 2013. a, b, c, d, e, f
Gallego, C., Cuerva, Á., and Costa, A.: Detecting and Characterising Ramp Events in Wind Power Time Series, J. Phys. Conf. Ser., 555, 012040, https://doi.org/10.1088/1742-6596/555/1/012040, 2014. a, b
Gallego, C., Cuerva-Tejero, A., and Lopez-Garcia, O.: A Review on the Recent History of Wind Power Ramp Forecasting, Renewable and Sustainable Energy Reviews, 52, 1148–1157, https://doi.org/10.1016/j.rser.2015.07.154, 2015a. a, b, c
Gallego, C., García-Bustamante, E., Cuerva, Á., and Navarro, J.: Identifying Wind Power Ramp Causes from Multivariate Datasets: A Methodological Proposal and Its Application to Reanalysis Data, IET Renew. Power Gen., 9, 867–875, https://doi.org/10.1049/iet-rpg.2014.0457, 2015b. a
Greaves, B., Collins, J., Parkes, J., and Tindal, A.: Temporal Forecast Uncertainty for Ramp Events, Wind Engineering, 33, 309–320, https://doi.org/10.1260/030952409789685681, 2009. a
GWEC: Global Wind Report 2018, Annual Market Update, Tech. rep., GWEC, Brussels, Belgium, 2019. a
Hannesdóttir, Á. and Kelly, M.: Detection and Characterization of Extreme Wind Speed Ramps, Wind Energy Science, 4, 385–396, https://doi.org/10.5194/wes-4-385-2019, 2019. a, b, c
IEC: Wind Turbines – Power Performance Measurements of Electricity Producing Wind Turbines, International Standard IEC 61400-12-1:2005(E), International Electrotechnical Commission, Geneva, Switzerland, 2005. a
Jørgensen, J. U. and Mohrlen, C.: AESO Wind Power Forecasting Pilot Project, Tech. rep., WEPROG, Ebberup, Denmark, 2008. a, b, c
Kamath, C.: Understanding Wind Ramp Events through Analysis of Historical Data, IEEE PES T&D 2010, 1–6, IEEE, New Orleans, LA, USA, https://doi.org/10.1109/TDC.2010.5484508, 2010. a, b
Kariniotakis, G.: Renewable Energy Forecasting: From Models to Applications, Woodhead Publishing, Cambridge, UK, 2017. a
Kohonen, T.: Self-Organized Formation of Topologically Correct Feature Maps, Biol. Cybern., 43, 59–69, https://doi.org/10.1007/BF00337288, 1982. a
Lacerda, M., Couto, A., and Estanqueiro, A.: Wind Power Ramps Driven by Windstorms and Cyclones, Energies, 10, 1475, https://doi.org/10.3390/en10101475, 2017. a
Lange, M., Focken, U., and Lenz, A.: Ramp Event Forecasting – Practical Experiences in the USA and Australia, 9th International Workshop on Large-Scale Integration of Wind Power into Power Systems as Well as on Transmission Networks for Offshore Wind Power Plants, 89–92, 18 October 2010, Québec, Canada, 2010. a
Magerman, B.: Short-Term Wind Power Forecasts Using Doppler Lidar, Ph.D. thesis, Arizona State University, Tempe, USA, 2014. a
Martínez-Arellano, G., Nolle, L., Cant, R., Lotfi, A., and Windmill, C.: Characterisation of Large Changes in Wind Power for the Day-Ahead Market Using a Fuzzy Logic Approach, KI – Künstliche Intelligenz, 28, 239–253, https://doi.org/10.1007/s13218-014-0322-3, 2014. a
Mishra, S., Leinakse, M., and Palu, I.: Wind Power Variation Identification Using Ramping Behavior Analysis, Enrgy. Proced., 141, 565–571, https://doi.org/10.1016/j.egypro.2017.11.075, 2017. a, b, c
MODIS: Atmosphere (NASA): MODIS L1B Granule Images, available at: https://modis-images.gsfc.nasa.gov/IMAGES/, last access: 9 September 2020. a, b
Percival, D. B. and Walden, A. T.: Wavelet Methods for Time Series Analysis by Donald B. Percival, https://doi.org/10.1017/CBO9780511841040, 2000. a, b
Potter, B. E. and Hernandez, J. R.: Downdraft Outflows: Climatological Potential to Influence Fire Behaviour, Int. J. Wildland Fire, 26, 685, https://doi.org/10.1071/WF17035, 2017. a, b
Press, A. A.: Victoria Hit by Destructive Thunderstorms as Bureau Warns NSW Is Next, The Guardian, available at: https://www.theguardian.com/weather/2018/dec/15/victoria-braces-for-more-flooding-and-thunderstorms (last access: 28 April 2020, Sydney, Australia, 2018. a
Sherry, M. and Rival, D.: Meteorological Phenomena Associated with Wind-Power Ramps Downwind of Mountainous Terrain, J. Renew. Sustain, Ener., 7, 033101, https://doi.org/10.1063/1.4919021, 2015. a, b, c
Simmonds, I., Keay, K., and Tristram Bye, J. A.: Identification and Climatology of Southern Hemisphere Mobile Fronts in a Modern Reanalysis, J. Climate, 25, 1945–1962, https://doi.org/10.1175/JCLI-D-11-00100.1, 2012. a, b
Steiner, A., Köhler, C., Metzinger, I., Braun, A., Zirkelbach, M., Ernst, D., Tran, P., and Ritter, B.: Critical Weather Situations for Renewable Energies – Part A: Cyclone Detection for Wind Power, Renew. Energ., 101, 41–50, https://doi.org/10.1016/j.renene.2016.08.013, 2017. a
Tayal, D.: Achieving High Renewable Energy Penetration in Western Australia Using Data Digitisation and Machine Learning, Renewable and Sustainable Energy Reviews, 80, 1537–1543, https://doi.org/10.1016/j.rser.2017.07.040, 2017. a
Treinish, L. A. and Treinish, L. A.: Precision Wind Power Forecasting via Coupling of Turbulent-Scale Atmospheric Modelling with Machine Learning Methods, 93rd American Meteorological Society Annual Meeting, AMS, 9 January 2013, Austin, USA, 2013. a
Trombe, P.-J., Pinson, P., and Madsen, H.: A General Probabilistic Forecasting Framework for Offshore Wind Power Fluctuations, Energies, 5, 621–657, https://doi.org/10.3390/en5030621, 2012. a
UNFCCC: Adoption of the Paris Agreement, Tech. rep., UNFCCC, Paris, 2015. a
van Kooten, G. C.: Wind Power: The Economic Impact of Intermittency, Letters in Spatial and Resource Sciences, 3, 1–17, https://doi.org/10.1007/s12076-009-0031-y, 2010. a
Vincent, C. L., Hahmann, A. N., and Kelly, M. C.: Idealized Mesoscale Model Simulations of Open Cellular Convection Over the Sea, Bound.-Lay. Meteorol., 142, 103–121, https://doi.org/10.1007/s10546-011-9664-7, 2012. a
Worsnop, R. P., Scheuerer, M., Hamill, T. M., and Lundquist, J. K.: Generating Wind Power Scenarios for Probabilistic Ramp Event Prediction Using Multivariate Statistical Post-Processing, Wind Energy Science, 3, 371–393, https://doi.org/10.5194/wes-3-371-2018, 2018. a
Wurth, I., Ellinghaus, S., Wigger, M., Niemeier, M. J., Clifton, A., and Cheng, P. W.: Forecasting Wind Ramps: Can Long-Range Lidar Increase Accuracy?, J. Phys. Conf. Ser., 1102, 012013, https://doi.org/10.1088/1742-6596/1102/1/012013, 2018. a
Wurth, I., Valldecabres, L., Simon, E., Möhrlen, C., Uzunoğlu, B., Gilbert, C., Giebel, G., Schlipf, D., and Kaifel, A.: Minute-Scale Forecasting of Wind Power–Results from the Collaborative Workshop of IEA Wind Task 32 and 36, Energies, 12, 712, https://doi.org/10.3390/en12040712, 2019. a
Zack, J., Mendes, J., Bessa, R., Keko, H., Miranda, V., Ferreira, C., Gama, J., Botterud, A., Zhou, Z., and Wang, J.: Development and Testing of Improved Statistical Wind Power Forecasting Methods, Tech. Rep. ANL/DIS-11-7, Argonne National Laboratory, Illinois, USA, 2011. a
Zhang, J., Florita, A., Hodge, B.-M., and Freedman, J.: Ramp Forecasting Performance From Improved Short-Term Wind Power Forecasting, in: Volume 2A: 40th Design Automation Conference, p. V02AT03A022, ASME, Buffalo, New York, USA, https://doi.org/10.1115/DETC2014-34775, 2014.  a
Zhang, J., Cui, M., Hodge, B.-M., Florita, A., and Freedman, J.: Ramp Forecasting Performance from Improved Short-Term Wind Power Forecasting over Multiple Spatial and Temporal Scales, Energy, 122, 528–541, https://doi.org/10.1016/j.energy.2017.01.104, 2017. a, b